Tuesday, July 27, 2010
hi beekers!!

school is gonna start soon and i am sure all of you are very excited over it with all the fun activities coming up...

below is the schedule for SWOC (impt things highlighted in red

)

so do join us at the camp and know our new neighbours better ya?
and also, if you're free, please do come back to comm hall to help rag ok? cya soon!!
2:43 PM;

-be.♥.ed jenn
Thursday, May 20, 2010
Hey beekers,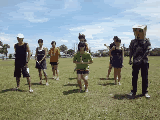 Where the forces unite

Sheares Exposure Camp will be held this monday from 24th May till 27th May. Here is a rough guideline of what's happening these 3 days and do come down and join us. A great chance to interact with the potential freshies!
24th May Day 1:
Afternoon - Station games @Sheares Hall
Afternoon - Mass Dance @MPSH
Night - Lifeline! @Sheares Hall
Night - Secret Pal @MPSH
25th May Day 2:
Morning - Sentosa Games @ sentosa
Afternoon - "Food Hunt"
Night - Secret Pal @MPSH
26th May Day 3
Morning - War games @West Coast Park
Evening - SP Revelation @Munchie Monkey
Night - Finale Night @MPSH
27th May Day 4
Morning - Prize presentation/ Video presentation Talks @MPSH
Afternoon - Break Camp @MPSH
If you want to come down and clarify with us the location, do contact
Jenn Haur - 91178670
Rui Qi - 92306078
SEE YOU ALL THERE!


1:22 AM;

-be.♥.ed jenn
Wednesday, March 24, 2010
hey..
i uploaded the gift for seniors over here..
so for those who want to spot themselves, just click on the picture k?
take care seniors!!
it's been an enjoyable time in block b! =)
all the best!
10:40 PM;

-be.♥.ed jenn
Saturday, March 20, 2010
sorry guys, i just can't help but to upload this when i saw it on the photocomm gallery =p
6:18 PM;

-be.♥.ed jenn
Thursday, January 21, 2010
sorry for the late post!
here's a little update on what happened during welcome back supper last friday night. those that couldnt make it you can have a look at some of the new faces in our block through the pictures!
xuanyi and minqi with the food we have prepared!~
erm i dun rmb why everyone seems to be looking in a particular direction..
xuanyi prancing around in front of the camera. i only managed to get this shot clear. haha.
okay you cant really see her but the girl on the right is one of the newcomers in our block.. ermmmmmmmmm. hahaha. it's a bad photo. look out for her at level 3~
peiqi!~
minqi!~ who later got ponded with jeremy. HAHA. zhengquan and joel got wet in the process and then the ponding moved up to rooftop where sukee got ponded by junjie and chuanting got ponded by mereith. it was a wet supper.
BLOCK B TEEEEE!
and then we started to play!!!
i guess it was quite fun and the food was quite good. haha. coz we finished almost everything? HAHA.
sorry for the lousy quality photos. we need jenn's camera next time. stay tune for more updates for future events!~
2:33 PM;

-be.♥.ed destiny
Saturday, December 19, 2009
i cant imagine how jenn is feeling right now after THREE trainings in one day when my arms and legs are already aching after just one training. this is due to the lack of exercise. explains why zhengquan called me a phantom HAHA.
anyway this is just to update everyone about the new stuff in our block... the trip to ubi was fruitful and we have new furniture for the rooftop!!
sorry that it's very brown. we will try to add the greeneries soon. haha.
other than that we have to remind you that next monday is sheares hall first ever christmas party!!
for those who can come please come!! to blend into the festive season remember to come in red/green and bring a 5dollars gift for the gift exchange!!(:
see you!!(:
8:51 PM;

-be.♥.ed destiny
Tuesday, November 03, 2009
a Dedication to Ms Psychology and Mr Engineering Science
we wish them all the best in their matrimonial life. HOMERUN!!!
2:20 AM;

-be.♥.ed jenn